Modern kitchens are equipped with luxurious items that make cooking much easier. Buyers often think of comfort, elegance, durability, time and power saving factor when purchasing them. And nowadays the trend is using cookware made of copper which is an excellent conductor of heat. That property saves time and energy in cooking. Apart from that, copper cooking utensils are famous among housewives due to some other interesting properties of the metal such as adhesion and resistance to corrosion.
And do you know that drinking in copper vessels is good for diabetic patients?
Anyway, when it comes to buy kitchen utensils made of copper, give priority to Mexican copper kitchenware all the time. They are of fine finish and unique in design. They last for a long time and quite easy to maintain. You cannot simply imagine the grandeur and grace they add to your kitchen. Their eye-catching brownish hue and smooth texture establish a specific identity to these Mexican products.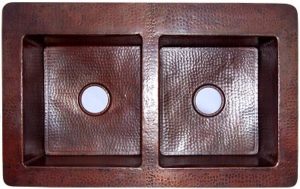 There are a wide variety of copper utensils like hammered kitchen copper sinks, kitchen faucets, copper plates, kitchen strainers, saucepans, spoons etc. Just step in to a Mexican copper ware showroom and make a wise purchase. You'll never have any regrets of buying them at such affordable prices. And never ever have any doubts about the fine crafts of Mexican coppersmiths who produce these fine creations just for you! They hammer the metal in order to give you a product of the finest finish. Their traditional Mexican craftsmanship reflects in these products. Hammered Mexican kitchen copper sinks come in three finishes; antique looking, natural looking and clear-looking. You can easily identify them by color since the three finishes come in three colors. However, all the three finishes are so attractive that it's hard to decide which one to select.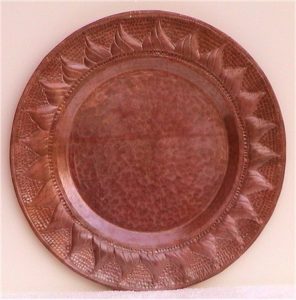 Would you like to dine like a king in an elegant hammered Mexican copper plate?
The smooth texture, reddish-brown color and majestic look of these plates will generate a really special feeling in you. And your dining room will look almost palace-like with all the grace of these polished copper plates, spoons and drinking vessels. You need not worry about the durability of them since they're hand painted and covered with enamel. So, they have a longer life span.
I'm sure, by now, you must have made up your mind to buy hammered Mexican copper kitchenware for your home. They definitely improve the value and beauty of your kitchen. Such elegant, durable and attractive products are hard to find in the market today. Therefore, it's most advisable of you to select Mexican copper kitchenware to enhance the appearance of your home.